Desert X, the first edition of a biennial in the vast Coachella Valley, 120 miles east of Los Angeles, opened to the public on February 25, 2017 (until 4/30/2017). I went on the second weekend while the installations were still fresh. However a few were already closed. One, by the artist Richard Prince was closed because the artworks had been stolen. Driving is the key as the project is spread over 45 square miles. The founding curator Neville Wakefield did not envision a theme: each artist visited the desert repeatedly and selected a site which resonated. An organic, bottom-up process of art creation. Seeing is the key.
The Los Angeles times  reports here an installation tour with the curator:
'Desert X is, at its core, really about the journey between artworks, the surprises and "interstitial moments." Suddenly, the car comes to a stream of rushing water that cuts across the road, spilling over a nearby cliff hang.'
'"But most of the art is intentionally not clustered together," Wakefield says. "The idea is to get lost."'
We did manage to get lost a few times—even with GPS—mostly while we were very near, trying to locate the piece. These are just the few I visited,  after scanning the artists' statements and from what I knew about each artist, though most I had not heard of.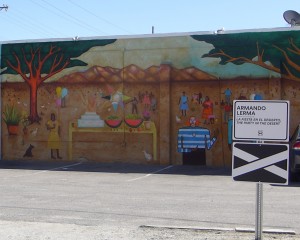 Armando Lerma. The Party in the Desert 
This mural is part of the ongoing Coachella Walls project which Lerma started in this small city in the eastern end of the vast Coachella Valley, in 2011. It gives voice to this low-income, marginalized community of mostly immigrants:
'In addition to stimulating foot traffic to the area, "Coachella Walls" continues to raise awareness for the larger Eastern Coachella Valley and is dedicated "to the anonymous farmworker." '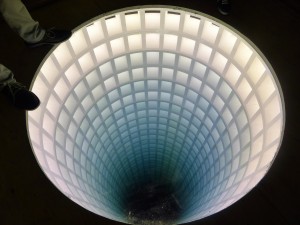 Glenn Kaino,  Hollow Earth
Glenn Kaino, an amateur magician, often makes works with a surreal quality, and asks profound questions. His 2011 performance piece in Miami Beach, Levitating the Fair is one example. Viewers walk up to a 20'x20′ platform to help lift it—success only appears sporadically and infrequently. That's because only if so many people happen to be lifting at the same moment will the platform levitate. It speaks of collective labor and the power—and unpredictability—of the masses. In another, he played chess using burning candles as chess pieces.
Hollow Earth, by contrast, is just magical and spell-binding. It's hard to take your eyes off:
'The title, invoking the numerous legends of a subterranean land, provokes the idea that the world is inside out—an overt reference to the crisis of our time. Paradoxically, as the viewer stares down at the piece, wondering about the depth of the tunnel, they are actually staring at themselves as seen through a series of mirrors. In this ironic case, art directly reflects (their) life and the meaning, value and power that they assign to it.'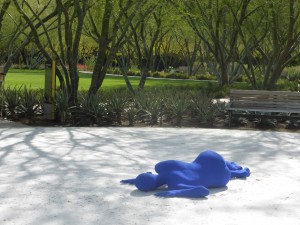 Lita Albuquerque   hEARTH
Located in the immaculate gardens of the Annenberg Retreat at Sunnylands, this resin-cast female figure in ultramarine blue with her ear to the Earth, listening, is full of historical references. Since the 1960s, the Annenbergs had hosted political leaders to discuss world problems. But now, with a stunning modern visitor's center (by Los Angeles architect Frederick Fisher), it is a high-level retreat for meetings of leaders in arts and sciences, education, as well as politics. Listening is key.
'Albuquerque's artwork for Desert X, hEARTH. A play on words—a gathering site for storytelling, the ear, Earth—the artwork's title speaks to art's ability, here, through movement, voice and sculpture, to both listen and become a catalyst for action.'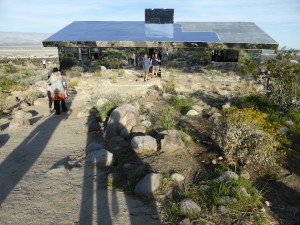 Doug Aitken, Mirage
Located in the Desert Palisades, at the end of  a newly paved road built for a residential development, the standard Southern California ranch house is not standard here because it is completely clad in mirror sheets, not just the outside, but every wall in the interior. You could only see yourself everywhere you turn.
This is probably the most famous of the Desert X installations. We went at sunset as suggested by some but we all agreed it sounded better in description. (The cladding was not complete at the time of our visit).
'As mirage pulls the landscape in and reflects it back out, this classic one-story suburban house becomes a framing device, a perceptual echo-chamber endlessly bouncing between the dream of nature as pure uninhabited state and the pursuit of its conquest.'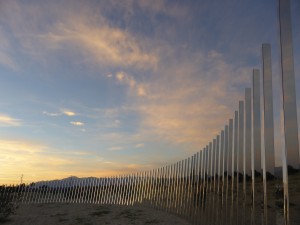 Phillip K. Smith, The Circle of Land and Sky     
More mirrors—reflections in the desert! We returned as suggested at sunset and caught some beautiful views. But we were too much tourists to stay to reflect. Somehow those '300 geometric reflectors' angled at precisely 10 degrees to form a shallow bowl feels like too much of an intrusion on nature. But there were lots of photo ops.
'As the light shifts and the viewer moves through the installation, land and sky are separated, merged, and displaced, subverting one's assumed relationship with the desert horizon.'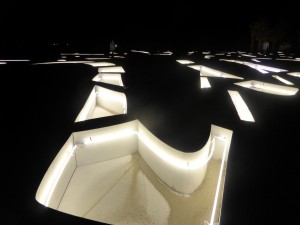 Tavares Strachan, I  Am
The words I AM are spelled in this dramatic light installation: trenches dug into the ground and lined with neon tubes. It's hard to make anything out of these giant letters broken into irregular geometric shapes unless you have a tower to look down from. Or perhaps that's the point. You cannot really find out who you are. (It appears there is a drone hovering over the site during opening night reading the letters, which are projected on the side of a truck somewhere. But there were no sign of any of these when we were there).
Since this site is open only after dark, in a rather obscure  area outside of Rancho Mirage, there weren't many visitors. It was oddly intriguing: that this intrusion upon the Earth does not seem intrusive.
'With the help of a skilled team, I plan to dig 290 craters over 100,000 square feet, or the size of two American football fields. Once the holes are mapped and dug in the desert floor, brightly lit neon tubes will align the perimeter of each crater. The viewer will interact with what seems like an abstracted glowing creavasse of light, but if viewed from the sky one will read the exploded phrase "I am." '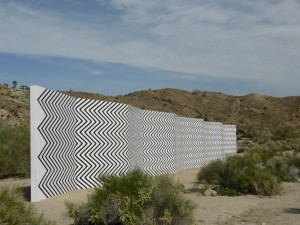 Claudia Comté, Curves and Zigzags
Op art in the desert!
I had to walk all around the wavy wall to figure out how it waves: are the curves regular? Are some sharper than others? (Maybe). The whole thing is dizzying, by no means organic. And  for no obvious reason other than op art is what the artist does.
'…the painting starts with a stringent geometric composition that gradually morphs into a more organic wave like pattern reminiscent of Bridget Riley optical paintings… Playing on the constant exchange of dualities—nature and culture, order and chaos, geometric and organic forms—Comté's wall suggests a walk through the shifting sands of abstraction and on to a place where beauty and contemplation sit side by side.'
On this trip, we also visited artist Andrea Zittel's Joshua Tree High Desert Test Site (HDTS). Zittel has been residing there since 2000, living and making art in the spirit of the Bauhaus movement of almost a century ago. However, her ideas are less about selling art and design than about achieving a minimalist way of living and working. HDTS now includes other 'test sites' created by individuals working from their passion rather than meeting consumer needs. One of these is also a place I had wished to visit for a while, Noah Purifoy's Outdoor Desert Art Museum which I also saw. I will have more on a future post.
Please follow and like us: