Posts Tagged:

Zaha Hadid
Museo nazionale delle arti del XXI secolo (MAXXI, Rome). Image from Another Something & Co.
During one of her early Read More »
Just exactly what is art?
This is a question so Read More »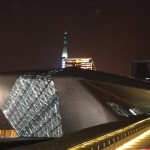 Mao had allegedly said that women held up half the sky. True or not, well, he (and China) needed workers!
One thing is for sure (I think) – Zaha Hadid has Read More »