Los Angeles on my mind in July…
…but I'd wager that the more appropriate adjectives for describing what reluctant museum-goers feel about museums include "boring," "bewildering," and "confusing," because there isn't enough way-finding information.
What is your experience of entering a large museum for the first time?
Please follow and like us: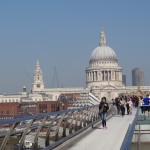 St Paul's cathedral over the Millenium bridge from Tate Modern
Going to the Tate Galleries in London for me is like reading the New York Times.
Please follow and like us: