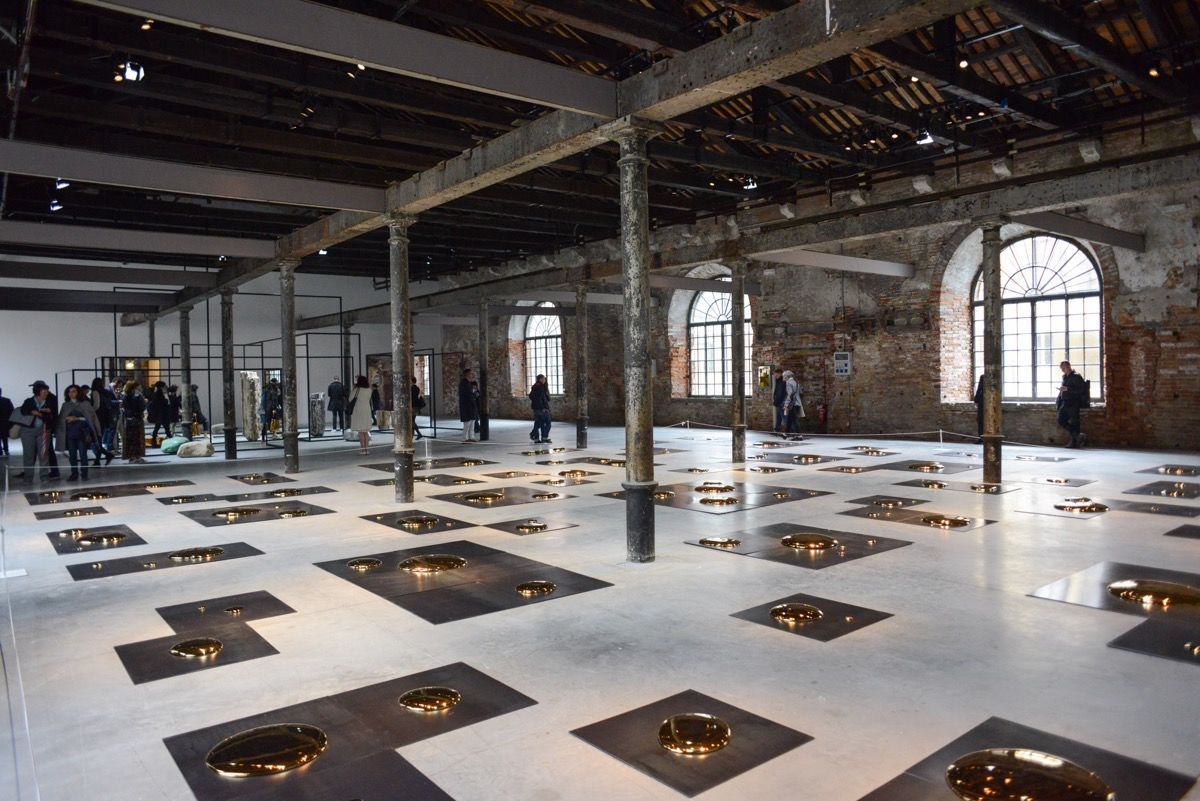 This year's Biennale Viva Arte Viva,  in spite of some critics, for me fits the bill of art (or exhibition) as mirror. How it is seen or judged reflects the viewer—whoever he or she might be: artist, critic, curator, or the general visitor. And that is its virtue which I think is somewhat missed in most reviews I have read.* More on this after a "walk-through" of some of my favorite pieces: the first three are in the Arsenale and the others are in the Central Pavilion in the Giardini, where the main exhibition begins. **
Square (2014, See above) Liu Jianhua (China, b. 1962) (Photo credit: Casey Kelbaugh for Artsy) 
The sheer beauty and power of this installation stopped me on my track. It is as if liquid gold had been poured on these dark steel plates—pure material and form. They don't represent anything but themselves.
Liu started as a teenager laboring for a decade in the historic porcelain kilns in China's Jingdezhen Porcelain and Sculpture Factory,*** perfecting his firsthand knowledge of clay and fire through ancient techniques. He later trained in the fine arts department in the Pottery and Sculpture College in the city.
For Liu, both porcelain and steel come through fire, but one is fragile, the other strong. And both are natural materials from our Earth. Perhaps that's why the piece is in the Pavilion of Time and Infinity, the last of chief curator Chrisine Macel's Nine Trans-Pavilions. It can however, equally belong to others: e.g. Pavilion of the Earth, Pavilion of Traditions, or Pavilion of the Common [for everyone].
Good art defies categories. But I do appreciate Macel's themed Trans-Pavilions.They provide a bit of structure and entry point to an otherwise overwhelming exhibition like the Biennale.
Lenzuolo (Bedsheet, 1991), Maria Lai (Italy, 1919-2013) (Photo credit: Italo Rondinella, La Biennale di Venezia)       
Can a woman's daily work be art?
' "Millennia of silence, of attempts at poetry, of bread from feasts, of threads from a loom." This foundation for a long time fueled the legendary image of the little "Jana"—the benevolent fairy of Sardinian folklore—who weaves and kneads myths and and memories buried in the collective memory, to the detriment of the profile of a female!' —from Biennale catalogue.
Maria Lai's art had been in many Venice Biennales and yet her name is only now emerging in our common consciousness: her art of silence—and action—in her native Sardinia. Born of relative privilege, she was deeply moved by the labors of her fellow women who toiled in silence, shouldering the daily burdens  of life: making cloth, kneading bread… Lai identified with them and weaved their poetry into her own art, and actions that involved the whole community. For her, "Creativity reveals itself in the women's everyday life."  
"Instead of the typewriter so commonly used by the concrete poets of her time, Lai chose the sewing machine to abstract her signs and "letters," and to record their undercipherable, illegibe twirls. She baked books out of bread and clay and sewed others from incipit to end on soft fabric or paper."—Barbara  Casavecchia. 
Hers is the art of silence, of action, of doing, of community interaction, not just words—and it can easily fit into the theme of other pavilions beyond the Pavilion of the Common: Pavilion of the Earth or Pavilion of Tradition.
Zero to Infinity in Venice (2016-2017), Rasheed Araeen (Pakistan b. 1935, works UK) (Photo credit: Nico Kos)
Minimalism does not have to be austere.
These light-weight lattice cubes lie about in the vast entry hall to the Arsenale, greeting the visitor. It is not a big WOW but an understated welcome. You are free to move them in any way you want. And it seems no matter where these cubes are, the whole room looks beautiful. See here how some curators at Tate gallery in London had stacked the cubes during an exhibition there in 2012. 
While this work opens the Pavilion of the Common (the democratic, participatory nature of art—from muscle movement to brain cognition), it is also a reference to art history: the perceived rigidity of Minimalism and its possibilities of freedom for the everyday and everybody. Color also adds to its delight.
Artist at Work (1978 /2017) Mladen Stilinovic (Serbia, b.1947 – 2016, d. Croatia)
This work is on a center wall that greets everyone who enters the Central Pavilion, the main exhibition in the Giardini. And perhaps that's why not many reviewers write about it—sleeping hardly deserves a WOW. But this is chief curator Christine Macel's opening to her visual essay: Artists and Books, the first of her nine thematic Trans-Pavilions in VIVA ARTE VIVA! But Stilinovic, who?
I wrote about Stilinovic here in 2013:
"The Croatian artist Mladen Stilinovic exhibited his work, Dictionary—Pain (2000 – 2003) in which he replaced the definition of every word in a dictionary with the word pain, in the 2003 Venice Biennale. With an art practice born of political turmoil, first in Yugoslavia under Tito, which he experienced firsthand growing up, then Serbia and Croatia, Stilinovic's art also addresses the current march to market of the new former socialist bloc's art world, eager to follow the West. A life-long dissident and outsider, embracing unpopular ideas like destabilizing any established symbols, pain is an apt metaphor for his art, which packs a deep punch."
Thus, these sleeping artist images can be read on many levels: The silencing of the artistic voice, the need for silence in an artist's workday, the "dream" in the Surrealists' search for the unconscious… art is a constant in an artist's life, he eats and sleeps in it.
This opening statement by Christine Macel is not a cannon blast, but a gentle poetic sigh—Artists and Books heralds her thesis: Art is not a nine-to-five job, even less a professional production. Perhaps that's why many pass it by.
In Between the Lines (2016), Katherine Nuñez (Philippines, b. 1992) and Issay Rodriguez (Philippines, b. 1991)
These messy-looking shelves suggest a busy working space, perhaps a student desk or an artist studio: books, sheets of text, posted notes, paper clips, a stapler, pencils, crayons, a bottle of glue… But in fact, each of of these items has been laboriously embroidered or crocheted by Nuñez, following patterns created digitally by Rodriguez.
These two artists are the youngest in this Biennale, perhaps in all biennales ever, graduating art school only in 2013. One cannot but appreciate curator Macel's generous outreach to artists beyond the West and the obvious, going beyond geographic, age, and sex divides.
The installation is asking many questions: how does an artist represent real objects? Why use such time-consuming, traditional women's crafts instead of drawing them by pencil (or by photography)? What is the difference between a digital grid and an embroidery or crochet pattern? What are the differences between biological and mechanical processes?
Such time-consuming traditional craft is also a means of muscle (implicit, unconscious) learning—a process that leads to cognition, in contrast to the dominant "alpha-numeric" quick (explicit, conscious) learning of words and concepts—the artists seem to be saying "…the way the mind must grasp its object of study in order to make it alive and concrete. Criticizing an educational system oriented to the needs of the job market…"
Green Light—An artistic workshop (2016). Olafur Eliasson (Denmark, b. 1967)
Eliasson's art, in contrast to that of Nuñez and Rodriguez above, has often involved explicit social statements in vast spaces which engage large numbers of people. From his Green River (1998-2001) where he used a non-toxic green dye to make rivers green, to his blockbuster 2003 The Weather Project in the vast Turbine Hall in London's Tate Modern, his art is collective and immersive.
For the Biennale, he has created a workshop where people work in assembling a green light fixture of his design. It is a collective learning experience, creating a community spirit among students, migrants, refugees, asylum seekers, and visitors.
Like crocheting and embroidery, such working together is also a means of learning, of creating memory. But here the act is more communal rather than meditative, and the lamp and parts have been designed by the artist, with precise instructions. In contrast, with millennia of women working together in sewing and other domestic activities, their work is original, often following patterns (if any) only loosely, with a process that is much more fluid and flexible and allows for creation.
Eliason's work here represents another aspect of art production, a sort of art as literal community, as activism, aside from the traditional painting and sculpture, of which there are plenty in this Artists and Books pavilion, which occupies almost the whole of the building. This is obviously a very important statement from Christine Macel, chief curator at Paris' Pompidou Center since 2000.
"Underwhelming" is what I hear or read from some curators about this Biennale.
But then, I have never heard any big collective "bravo" to any of the Biennales I have been to in recent years. It is just too big and too unwieldy a show. And many past curators tried to at least include some big, impressive art (mostly by male artists) to stand out (See here my review of the 2015 biennale). Macel seems instead to have avoided this trick—and her good solid essay on art can get a little blah unless someone has time to linger and study the artist statements as well as the catalog. This review from Artnet News editor-in-chief, Andrew Goldstein is a very good one.
Well,  what do I think of this exhibition (starting with a shock from the past)?
During an artist Q&A many years ago in Los Angeles, a fellow participant went on and on about her interpretation of the artist's work. It was rather nice narrative and I am sure no one minded hearing it. The shock though, came from the artist's succinct response. She said what she heard reflected the speaker more than her art—yes, art allows this kind of freedom: everyone can have his or her interpretation, and none is right or wrong. 
So, what is good art?
It is art that can provoke such deliberation in each of us. The best art leads then to some sort of discussion among viewers who come to certain surprising common insights.
No artist has expressed this "art as mirror" idea more strongly and eloquently than the Italian Michelangelo Pistoletto. I will discuss his work and those of other Italian artists in the Biennale in my next post.
What then are the pleasures and wonders of art? It's the same pleasure (or horror…) as when we look at ourselves in the mirror and wonder…
It's this horizontality in art (as images: painting, sculpture, installation, performance…): the multiple entry points (and exit points). It's where kindergartners and university professors are equal, not to mention seasoned artworld participants and new- comers. This is true even more so in abstract art. There is no right or wrong.
But here's the catch. If we all see the same scene and come away with different and equally valid interpretations, these interpretations reflect YOU, more than the scene. This means that your view of a good piece of art changes as you change—if you've learned and grown. Like re-reading some good book years after college—it feels like a new book. That's why good art lives long. It provides a mirror to our being.
[A note from Cecilia: This is a very late review as the Biennale is closing in November. I went in May but have been very busy working on a book. I am resuming my postings here and will do so as often as I can. There are many things I want to write about: shows and artists from Paris, London, New York, Los Angeles, and lots of other places, not to mention new experiments in neurobiology that may explain artistic expressions and creativity]
*     Links to some reviews: Holland Cotter (New York Times, May 22, 2017); Chris Wiley (Frieze, August 11, 2017); Harry Thorne (Frieze, May 9, 2017). 
**   The Central Pavilion in the Giardini was previously the Italian national pavilion—until 2009—when Padiglione Italia moved to the Arsenale.  The Giardini also contains many national pavilions such as those of France, Britain, Germany, the US, Russia, and others, each with its own distinctive architecture.The Arsenale is a 16th-century industrial space that housed shipyards and armories during Venice's heyday.
***  Jingdezhen, famous since the 17th century for making the blue-and-white porcelain which was often used as ballasts in the tall-masted clipper ships of the day. In China today, blue-and-whites are very common among farmers and street noodle shops, though very fine ones were also made in Imperial kilns for the emperors.
Please follow and like us: