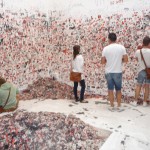 Jan25(#Sidibouzid,#Feb12,#Feb14,#Feb17…)    by Norma Jeane, 2011
This is the one room in the main Biennale international exhibition in the Giardini that had  more people  in it and they stayed longer. The reason? They got to create their own art – if you call that art. Ok, it's not all fun and games. The intriguing title refers to the most popular hashtags on Twitter during the recent Arab Spring uprisings. And the artist Norma Jeane is an alias.
This room started out on May 30 of 2011 as a pristine space with a perfect cube of plasticine, made of three layers of color: red, white and black. The view above is one from October, some four months and hundreds of pairs of hands later.
Somehow I see this mode of art installation as the polar opposite to that of Anish Kapoor's Ascension, with its techno-precision engineering control. See my post, Kapoor's Sublime.
While what the people in that plasticine room made was not art – the piece itself, in its conception and execution I believe is art.  It has no predetermined aim but to let people think (or putter around) and free associate, albeit with succinct suggestions. And deeper meaning may come later – much later in my case, five months – when image of that room suddenly emerged into consciousness.
Please follow and like us: