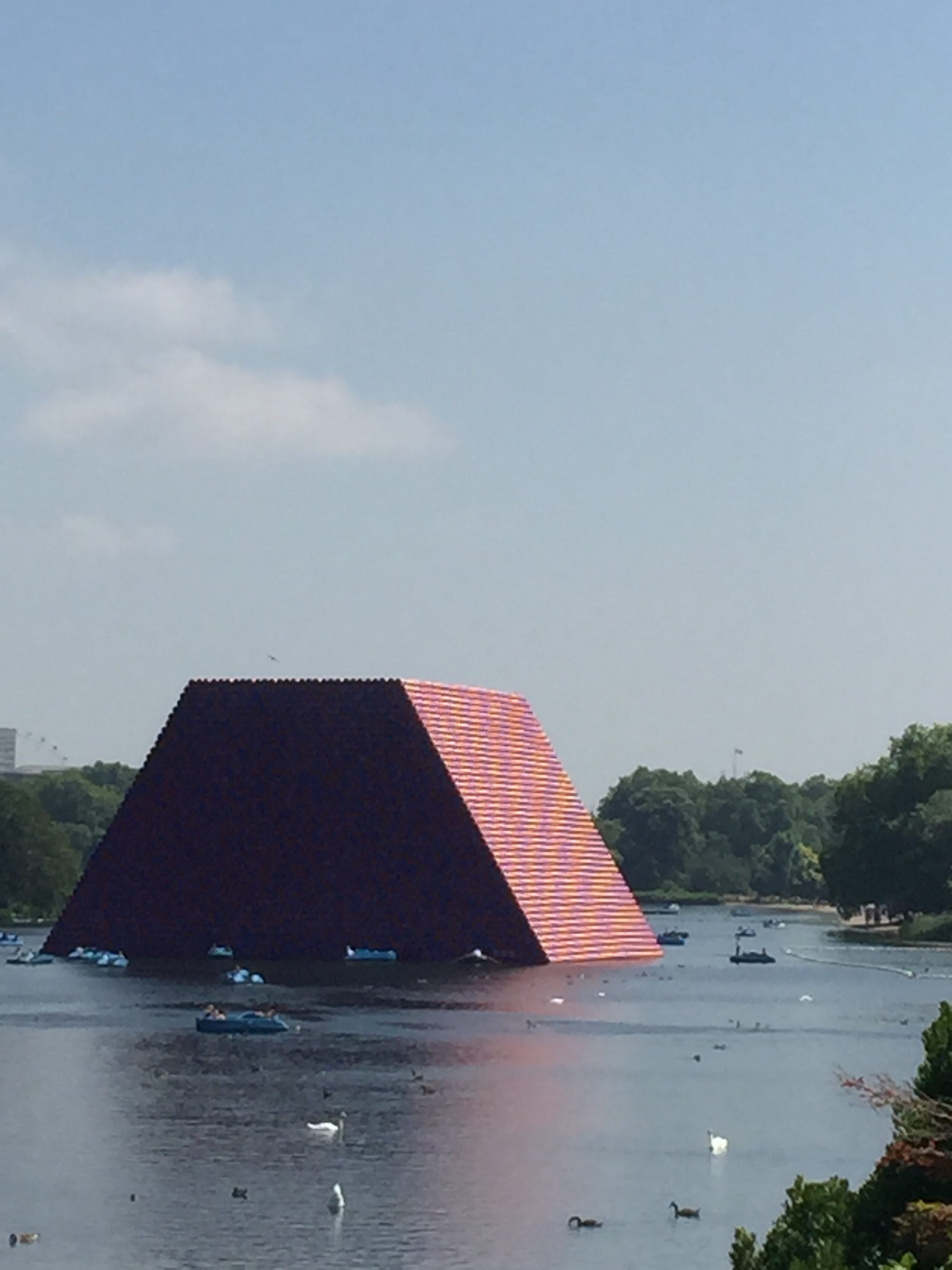 Christo and Jeanne-Claude, The London Mastaba, Serpentine Lake, Hyde Park 2016 – 2018, a temporary floating sculpture on The Serpentine Lake. *
The middle of June is probably not a good time to visit London: tourists everywhere, walking shoulder to shoulder on sidewalks. As rushed Londoners like to complain, why can't they walk single-file? On top of that, it was unusually hot when I was there, and walking was even harder. But London is London, and I went because there were so many exhibitions I wanted to see and to write about. And in Paris too.
BLOCKBUSTERS
Picasso 1932 (3/8 – 9/9/2018) in Tate Modern is the season blockbuster. It details, day-by-day in many cases, the double life of the artist. It was a tumultuous year, emotionally and artistically. All became clear when the sensuous portraits of his secret mistress, Marie-Thérèse Walter were unveiled (Picasso went to the cinema on opening night). On the other side of the channel, the Picasso Museum in Paris was showing his Guernica (3/27/2017 – 7/29/2018), painted in 1937 in response to the Nazi bombing of the Basque village of Gernika in northern Spain, killing many local people. It's an agonized antidote to his hedonistic 1932.
The National Portrait Gallery in Trafalgar Square has its own blockbuster, Michael Jackson: on the Wall (6/28 – 10/21/2018). It shows how forty-eight contemporary artists respond to their own memory and influence of Jackson: a portrait of Jackson as artist and cultural icon. Jackson is here portrayed not so much by his face than by his actions and movements: his Moon Walk, his famous on pointe moves, and the tragedy of his later facial transformations. It's an extended, modern definition of portraiture: often without the subject's own face.
GENRE-BUSTERS
The breakdown of classical genres: portraiture, still life, and landscape, come to a head with British-European artist Tacita Dean's unprecedented triple exhibitions, concurrently: at the National Gallery, Still Life (3/15 – 5/28/2018); the National Portrait Gallery, His Picture in Little (3/15 – 5/28/2018), and the Royal Academy, Landscape (5/19 – 8/12/2018). Dean's work completely conflates the three—there are often elements of still life in her portraitures or landscape and vice versa. I met Dean twenty years ago when I first landed in London and was very intrigued with her work, even though I was blind to their meaning. She was not long out of art school, but no subject matter was off limits. Now known mostly for her captivating 16 mm films, which she does not allow viewing in video format except as archival material, which I studied in 1999.  I still feel inadequate to write about her work, with her Shakespearean and classical Greek references. Also, her alchemical dissolving of viewing points and boundaries, and the embracing of accidents and chance challenge the viewer's need to come to a neat conclusion. But I feel it's now time to try anyway, after two decades, whatever my ignorance.
What is landscape? Back to Paris, and Monet, in Musée de l'Orangerie. The old orangery was converted in 1922 to house Monet's definitive waterlilies, which he gave to the French nation. To many visitors' surprise, for the first time in almost a century, the immersive gigantic water lily  paintings are introduced in the small entrance rotunda by an early Ellsworth Kelly (USA, 1923 – 2015),  Tableau Vert (1949, Art Institute of Chicago). Kelly had made the piece after visiting Monet's Giverny and seeing the elder artist's late works, piled in an abandoned greenhouse. Kelly probably considered his own mostly monochrome and clear-edged works landscape and acknowledged Monet's influence in his own oeuvre (See my post here). He curated Monet/Kelly at the Clark Institute in Massachusetts in 2014, one year before his passing. This is another example of how artists carry on our culture heritage, interpreting the past and "deflecting" (in Henry Geldzahler's word) the course of art history, through their unique ways of looking and seeing.
DEFLECTORS
Rodin and the art of Ancient Greece   (4/26 – 7/29/2018) at the British Museum makes the same point.  The Parthenon Marbles provide another story about how modern artists are inspired by art history and then deflecting it.  Rodin (1840 – 1917), the first modernist sculptor, visited the Parthenon Marbles in the British Museum in 1881 and was completely captivated. He continued to do so until his death in 1917, often staying at the Thackeray hotel across the street from the museum. Nowadays, we are aware of requests for repatriation of artworks wrongfully acquired by the current owners, be they individuals or nations. The Greeks have been trying since their independence in 1832 to regain the Parthenon Marbles which Lord Elgin moved to England around 1803. There are arguments on both sides. So, this will be my next post, not so much about the tug of war of ownership, but the artistic contributions of Rodin, and of course the part the Parthenon Marbles played in his art.
So here are already five pieces I plan to write for this site. But upon returning to Los Angeles, I saw Made in L.A. 2018 (6/2 – 9/3/2018). This biennial taking of the local creative pulses at the Hammer Museum is visually powerful, with spectacular installations. Each artist is given room to breathe, to tell their story.  I have read the catalog and will revisit before writing about it.
My fall writing schedule will be full: what with a book review and a book proposal also on the agenda. Wish me luck.
*   Mastaba  is a type of ancient Egyptian tomb in the form of a flat-roofed, rectangular structure.
Please follow and like us: