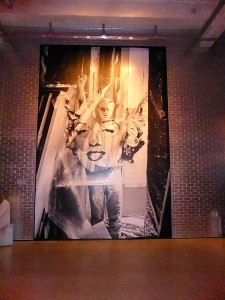 ANDY WARHOL'S SILVER FACTORY UPDATED – The Warhol Museum's new industrial chic 
While Warhol's artworks are fetching millions in the marketplace, his true legacy lives in Pittsburgh, where he was born and educated. 
Renovated this fall, the first floor of the Warhol museum in Pittsburgh is a revisit of Warhol's original Silver Factory, in spirit if not in exact form. Eric Shiner, director of the museum sees it as a new social hub for visitors, mixing "high and low, rich and poor, black and white, gay and straight… The Factory epitomized free thought and engaged discourse throughout the 1960s. We hope to replicate this model, welcoming all to come in, sit down, and share ideas without having to pay museum admission"… See more at warhol.org.  
MY NEW BOOK REVIEW – Is pain to be avoided at all costs? 
Back pain? Shoulder pain? Migraine?  You may feel better if you know more about it…Good pain and bad pain… And oh, do animals have pain?
Pain is the stuff of art and literature, philosophy and religion for as long as our culture has existed.  It has been used as weapon, and ransom, in love as in war. Why? 
Understanding Pain—Exploring the Perception of Pain is a timely book putting it all together and giving pain a biological backbone, with wonderful story telling, by a medical doctor and professor of anesthesia at Canada's McGill University, and director of its research center on pain.
NB  Also see my post here on pain and art.
Please follow and like us: