HIGHWAYS & BYWAYS: Your brain wiring in 3-D…
The Human Connectome Project can now scan and  show all the wiring in your brain – but not yet in real time. It's coming though, see below… 
THE WHITE HOUSE IS INTERESTED IN CONSCIOUSNESS: Mapping the brain in action…
A multi-billion dollar project involving not just scientists but Qualcomm, Google, and Microsoft etc that may help research into Alzheimer's, autism, schizophrenia… not to mention learning and memory. Obama Seeking to Boost Study of Human Brain.  
LlYN FOULKES RETROSPECTIVE AT THE LOS ANGELES HAMMER MUSEUM:  In a good show, you can see forever…
Music is my joy, painting is my angst – Llyn Foulkes' lament is absolutely clearly reflected in this show (to 5/19/2013). His joy in playing his music machine is infectious and worth the trip,  even just to see that machine – a sculpture, really. Yes, his painting shows a lot of angst – I was so exhausted I had to leave towards the end. (I guess I would call his music experiential and spontaneous and his painting interpretational and … cerebral?  Lots of thinking required). 
A 5-STEP  TECHNIQUE FOR PRODUCING IDEAS CIRCA 1939: Art is literature in visual form. 
Literature is the original "inter-net," woven of a web of allusions, references, and citations that link different works together into an endless rabbit hole of discovery – Maria Popova in Brain Pickings. 
FINDING CONSCIOUSNESS IN INDIA: When monks meet scientists… 
Buddhism and Science Scholars Discuss Consciousness    The Dalai Lama leads several thousand monks into the 21st century…
CREATIVITY IN HONG KONG: Dinner with Marilyn…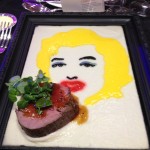 Andy Warhol: 15 Minutes Eternal Friends of the Hong Kong Museum of Art  gala dinner. 
CREATIVITY IN MOSCOW: Getting lost and… 
Art Experiment, the exhibition at the Garage Center for Contemporary Cultures in Moscow is just the place to go.
ART & MONEY: When art can come out of commerce and transcend it… 
They were a family of Florence bankers whose riches powered the Renaissance, yet their art ignores the material world. Why? Jonathan Jones asks in the Guardian: The Medicis: money, myth and mystery  
ART ETHICS: When is appropriation not appropriate? 

See The ethics of cultural borrowing    in The Australian on the friction between Aboriginal and Western artists. 
WHAT IS ART: A perceptive comment from my LinkedIn discussion group.  
Is design art? Is food art? What is art? which to date  has generated over 100 comments, many are well worth checking out. Here's a wonderful one  by Richard Farrington, quoting  TS Eliot, which I would call "art moments":
The voice of the hidden waterfall
And the children in the apple-tree
Not known, because not looked for
But heard, half-heard, in the stillness
Between two waves of the sea.
Please follow and like us: