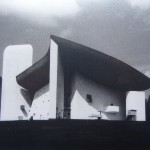 La Chapelle Notre Dame du Haut, Ronchamp, France (1950)
Einstein understands le Corbusier.
As one turns from the busy Ave Mozart  into  a quiet side street, towards rue du Docteur Blanche, wandering through this elegant residential  neighbourhood  of the  16th arrondissement, one happens upon a tall, arch-top wrought iron gate  which opens onto the deeply shaded, tree-lined  square du Docteur Blanche.
It is a rutted private driveway with undistinguished houses on either side. But the eyes are immediately drawn to the end of the cul-de-sac where a gleaming white volume beckons.  Sitting on top of Corbusier's signature pilotis in a field of sand-colored  pebbles  is the heart of Villa la Roche: the gallery.  Le Corbusier had designed this home for an early patron, a compatriot, the modest and austere Swiss art collector Raoul  la Roche.
Turning to enter the building through a small door to the right, near the inside corner of a letter L, of which the gallery forms the short, horizontal arm, one begins his  promenade architeturale, a cherished  le Corbusier idea he desired for his buildings. I shall not spoil it for you.
It is not architecture to impress or to intimidate, but rather one of intimacy and discovery, of personal experience, as space and views unfold at each turn. But le Corbusier is also capable of grandeur and spirituality in religious buildings he later designed.  *
And yes, about Einstein.
The Nobel physicist said, in a kindly letter to Corbusier after the latter's visit at Princeton in 1946, during which the architect tried badly to explain his concept of the modulor:  "It is a scale of proportions which makes the bad difficult and the good easy." **
*    If anyone has any doubt that 20th century modernist architecture can be deeply moving and astoundingly beautiful and sensuous, one only has to go to the east of France for two  of  le Corbusier's late buildings. The Chapelle Notre Dame du Haut in Ronchamp is easily the most beautiful building in the last century. Further south towards Lyon, the Couvent Sainte-Marie de la Tourette, is the most austere and spiritual architecture I have ever experienced. 
**   Le Corbusier meets Einstein.
Please follow and like us: