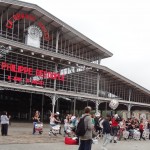 Cité de la Musique plaza on a Friday morning
 Have you ever heard the sound of a nose flute? Or seen one? All right, an ud? Didgeridoo? A slit drum?  A trip to the Musée de la Musique is in order.
There you can also watch Pierre Boulez explain what inspired his dissonant music (African beats); or how John Cage created his sound of silence.  Even see an exhibition on Bob Dylan or Paul Klee's polyphonies, or hear the Velvet Underground live.
From Baroque to Beethoven, and all the musical instruments in between and beyond, you can hear the music, see the instrument and be immersed for hours in this fascinating space in the very local atmosphere of the Parc de la Villette in the north-eastern corner of Paris.
The museum has on show nearly a thousand musical instruments from the 17th century to the present, mostly from the West, but also from around the globe. An audio guide is provided for each visitor. It records the sound of the actual instrument in front of you being played, if it is in playable condition; and from a copy if not. There are also video monitors along the route, playing orchestras or operas from the period.
On the day of a visit, I was drawn to the sound of a saxophone, richly resonating through the stairwell. The Jazz musician Gilles Barikosky was playing his tenor sax on a small stage at one end of the 18th century floor. We chatted a little : a musician performs there every day, between 11-4. *    
I wrote the above after visiting the museum for the first time last year, totally excited by the experience. For someone who's admittedly more visual than musical, never having the patience to sit through a performance or a long-playing song, the museum was a fascinating study. I stayed for two whole hours, had lunch nearby and went back for more, until closing time.
Returning this year, I personally followed two children, five and six years of age who were totally engaged for two hours. They not only used the red (for children) button on the audio guide but discovered that the black (adult) button gave them the actual sound of the instrument in front of them,  in a short piece of music.
I suppose music lends itself more easily to engaging audience temporally. But I wonder if there are other ideas in the museum's presentation that makes it so enthralling for adults and children alike.
* Excerpted from a piece I wrote for City Secrets Paris guide book, due spring of 2013.
Please follow and like us: